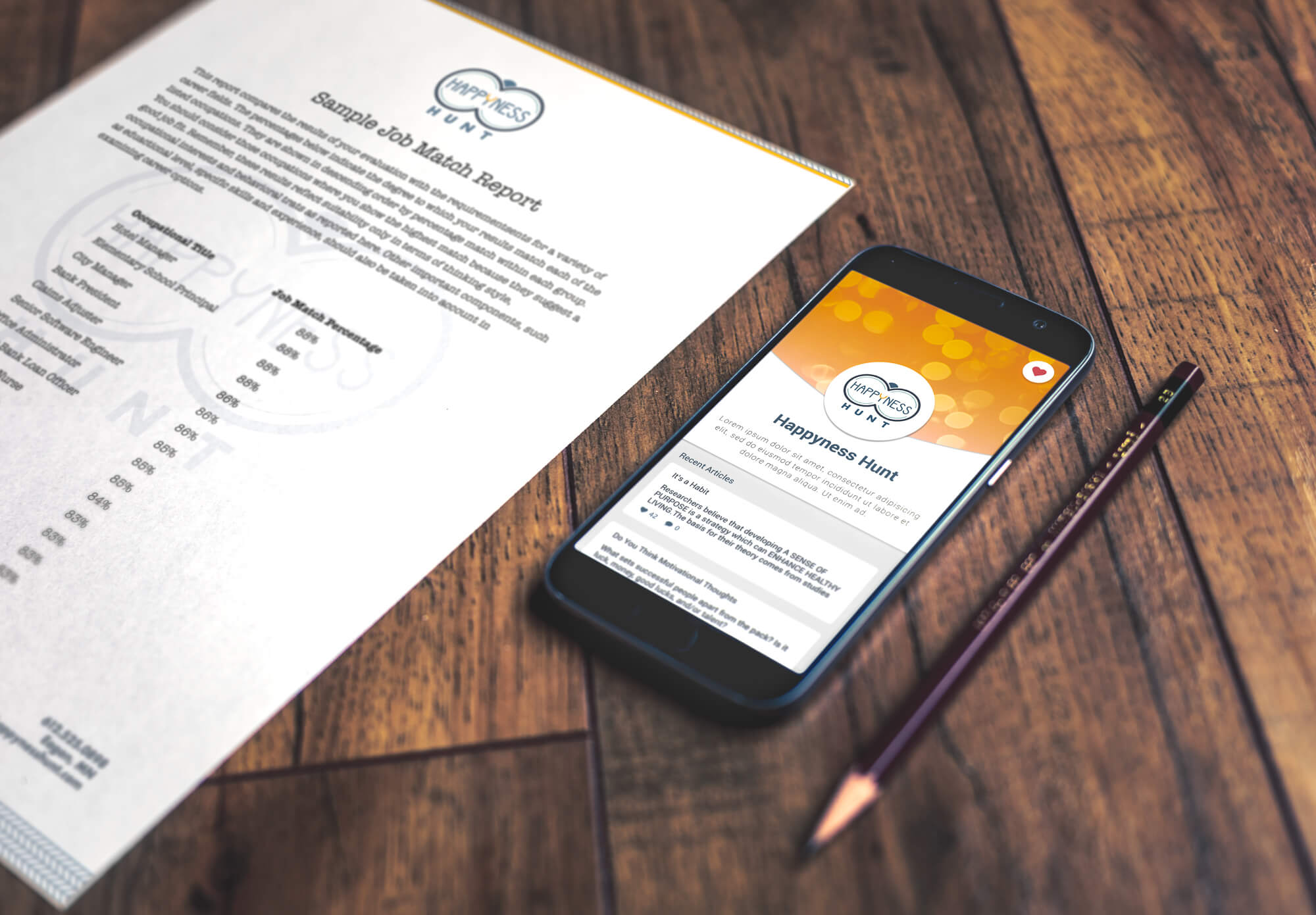 Recently we completed two logos for Lan Ta, a career coach based out of the Twin Cities in Minnesota. One logo represents a parent company, LTivity Consulting. This logo was basic and text-based. The second logo (or primary logo) represents Lan's career coaching business, Happyness Hunt. Both of these ventures are fairly new and have minimal online presence. Whether starting fresh or seeking a redesign, most of our process would be the same:
Getting to Know the Client
The discovery piece is an ongoing part of the process that requires we listen to everything the client has said in person, by phone or via email from the beginning. We also provide an online questionnaire for our client to complete. This document helps us understand the client's dislikes and likes of other logos, to get background regarding their business, requirements of the logo (text only, color preferences, mood, etc.) and any other information that may be helpful. Depending on the scope of the client's business, more time may need to be spent on this step, possibly spending time on-site getting to know more about how the business or organization runs and its vision.
Research
Researching logos includes collaborative brainstorming and seeking out inspiration from all our favorite places. Not as much research was needed for the LTivity Consulting logo since the logo ended up being based solely on complementary fonts. Any logo can end up being something similar to only text-based, but in this case we didn't explore other options.
For the more involved logo (Happyness Hunt), we researched what similar businesses in the client's area were using for a logo as well as other large cities. In the career coaching industry, larger cities were more likely to have similar businesses with logos. By combining Lan's input and competitor research, we get to the part where we can be very creative by diving into all the artistic concepts we've been gathering.
Concept drawings
Concept drawings is the stage when all ideas are taken a little further to suss out which concepts work, and we try different stylings and configurations. There are many creative ideas that never see the light of day. This kind of expression is vital so our creativity can shine and, really, some of the ideas seem better than they are. This step requires us be open about what doesn't work and take criticism, so the end result focuses on what the logo is representing.
Mockups
From the concepts, we select an array of different mockups that will be further refined and sent to the client for approval. During this time, we reassure that clients knows they can still change many aspects of the concept they ultimately choose and that this is the time to be as 'picky' or open about what is working for their logo and business. We don't see it as picky, but understand there can be apprehension when being critical.
Options
On occasion, clients just want the logo, no bells or whistles. Others request different formats that can fit into different configurations, yet honor a branding concept. With social media, there are often shape, size, and file format restrictions that require simplification. A company may want a logo featuring the full name of the company and one that only has a graphic or initials to be used in specialized applications, whether print or digital. There can be instances when black & white or single color options are necessary for print.
It was great working with Lan on her exciting journey to serve and guide others.